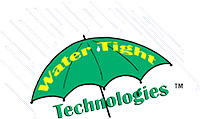 Water Tight Technologies, LLC.
RUBBERALL™ Membrane Qualities
EPDM (Ethylene Propylene Diene Monomer) rubber roofing technology has been the choice of larger roofing contractors for low slope roofing applications for over sixty years. Until recently, getting that EPDM membrane proved difficult for the smaller contractor. Water Tight Technologies is making available this proven EPDM roofing technology to the residential and light commercial contractor by offering RUBBERALL™ membrane through your local lumberyard.
There are many reasons why RUBBERALL™ membrane should be your choice for the low slope (3 in 12 or less) roofing project:
Over 60 Years of Proven Field Performance. One of the first commercial EPDM roofs was installed in the early 1960s. EPDM roofs represent more than 1/3 of all low slope, commercial roofing installations, today.
Flexibility. Unlike conventional asphalt roofing, there is no stress failure from structural movement due to the minimum 300% elongation of EPDM
Withstands Temperature Extremes. The 

RUBBERALL™

 membrane will not split, crack or rupture due to extreme temperature fluctuations. It has a flexibility range of -75 degrees Fahrenheit to temperatures up to 300 degrees Fahrenheit.
Few Seams. Traditional low slope roof installations typically fail using shingles or granulated rolled roofing because of seam integrity. Ice and water easily back-up under conventional shingles in low slope applications. Rolled roofing has a seam every 36 inches that requires constant maintenance.  A residential 

RUBBERALL™

 membrane installation will contain few (if any) seams. Those membrane seams that are present are installed using

RUBBERALL™

 Seam Tape that is proven to perform over time with no maintenance.
Fast, Safe Installation. Our 

RUBBERALL™

 roofing systems can be installed on new construction and retrofit projects without disruptive activities in the building. Unlike some rolled asphalt products, an open flame from a torch is never used when installing 

RUBBERALL™

 membrane.
Weatherproof. Our 

RUBBERALL™

 membrane shows little or no effect from sun, rain, hail, ice or snow.
Minimal Maintenance. Seam integrity is not an issue. Repairs are made easily even years after installation. Coatings are never needed, due to 

RUBBERALL™

 membrane's high resistance to ultra violet rays and the ozone.
Reflectivity. 

RUBBERALL™

 membrane may be coated with approved coatings to increased reflectivity. NOTE: Unapproved coatings will void the warranty.
Warranties. 

RUBBERALL™

 membrane from Water Tight Technologies, LLC is the only membrane offered with a FREE twenty (20) and thirty (30) year transferable material warranty , for premature deterioration using, .045 inch and .060 inch membrane respectively in a residential application. As is customary in residential roofing, the installing contractor may commit to insuring there are no leaks due to workmanship for some period of time after installation.
IF YOUR GOAL IS TO "KEEP THE WATER OUT" RUBBERALL™ MEMBRANE BY WATER TIGHT TECHNOLOGIES IS THE PRODUCT FOR YOU.
© Copyright 2000-2023, Water Tight Technologies®. RUBBERALL®, BRITE-n-EZ® and Water Tight Technologies® are registered trademarks of Water Tight Technologies LLC. All Rights Reserved.
"E-ZEE" ROLL™ is a trade mark of Water Tight Technologies, all rights reserved.