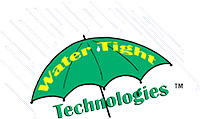 Water Tight Technologies, LLC.
RUBBERALL® Roofing Family of Products
Single-ply roofing enjoys the largest share of the commercial and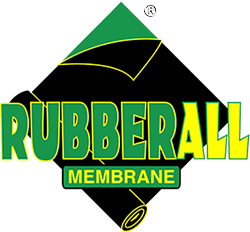 industrial roofing market. EPDM (Ethylene Propylene Diene Monomer) is by far and away the most popular single-ply product used in commercial roofing. Long term dependability, weatherability, and durability are among the primary factors contributing to the demand for EPDM roofs. Today, this technically advanced product is quickly becoming the product of choice in residential and light commercial roofing applications. Rich Arnold and Mike Guertin, east coast residential-construction consultants and builders noted in an article "Installing a Rubber Roof" published in Fine Homebuilding (Jan. 1998, no.113; pg. 60)
"Not long ago, we'd cringe whenever we'd get a job that had a flat roof or a roof with a really shallow pitch. Add a couple of extra details such as a 6-ft. French door opening onto a wooden deck over the roof with kneewalls on two sides, and we'd hear voices screaming in our sleep: "I'm going to leak, I'm going to leak."
"The only way we could guarantee a watertight job was to have a copper roof pan fabricated to cover the flat part of the roof. But copperwork ain't cheap, and we'd still have to do some fancy flashing. In most cases we were forced to fall back on the old inferior standby, roll roofing. Because of roll roofing's poor track record, we always left the homeowners a bucket of tar at the end of the job. Eventually, they'd need it.
"Then, about eight years ago, we installed our very first EPDM (ethylene propylene diene monomer), or singly-ply rubber, membrane on a large flat roof, and since then the voices of doom have all but disappeared. Rubber roofing, used commercially for many years, is now finding its way onto more and more residential projects (FHB #64, pp. 43-47). Properly installed, a rubber roof can solve even the most difficult flashing details. And unlike with roll roofing, we've never been called back for a rubber-roof job that leaked, even on oceanfront projects that experience gale-force winds on a regular basis."
As a contractor, you know that identifying the correct product to use in a low-slope application is the first step. Secondly, product knowledge and installation techniques are a must if your customer is to be satisfied.
Water Tight Technologies is focused on giving you, the contractor, time tested quality products. These products are being made available where you shop and are packaged or custom cut with the residential and light commercial contractor in mind. An installation manual and an informative installation video are available to aid in timely, quality installations. The RUBBERALL® product line and support materials are designed to save you time and material thus increasing your profit. Your customer will be impressed and will recommend your contracting company to others.
Water Tight Technologies is the only roofing supplier to offer a thirty (30) year Material Warranty to the homeowner, showing our confidence that our product will stand up to the weather.
© Copyright 2000-2023, Water Tight Technologies®. RUBBERALL®, BRITE-n-EZ® and Water Tight Technologies® are registered trademarks of Water Tight Technologies LLC. All Rights Reserved.
"E-ZEE" ROLL™ is a trade mark of Water Tight Technologies, all rights reserved.