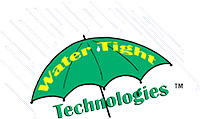 Water Tight Technologies, LLC.
About Water Tight Technologies®
Water Tight Technologies is a company dedicated to bringing quality products to the construction industry. To fully appreciated Water Tight Technologies' commitment to those that work with their hands, one need only look to its founder Paul Mineart.
Growing up on a farm, Mr. Mineart spent his youth working with his family of carpenters and construction workers. Anyone who has been involved in these trades knows that it is a life of hard work. It is a life filled with equal amounts of risk and rewards more often measured in personal satisfaction than financial well-being.
Paul Mineart's early career was spent as a chemist in rubber compounding and processing for Firestone Tire and Rubber Company, where he gained an appreciation for the performance of rubber products. After earning an MBA, Mr. Mineart served in a number of financial capacities. In 1983, he joined the newly created company, Firestone Building Products, a Division of Firestone Tire and Rubber Company, as Controller. In 1992 he became President of that company and lead Firestone Building Products through explosive growth becoming the leading manufacturer of commercial roofing materials in the United States and a major supplier to the European market.
Committed to supporting the growth and prosperity of the industry, Mr. Mineart served on a number of committees of the National Roofing Contractors Association and the steering committee for National Roofing Foundation, Roofing Industry Alliance for Progress.
Mr. Mineart co-founded Water Tight Technologies® in the year 2000, after retiring from Firestone with 33 years of service, and has served as its Water Tight Technologies President since inception. Water Tight Technologies' strategic focus was to bring its EPDM product line, RUBBERALL®, to the smaller roofing contractor doing light commercial and residential roof projects. The long-term performance properties of EPDM as a flexible membrane has prompted Water Tight Technologies to pursue other lining applications for EPDM. Today this membrane is used for waste water holding ponds, as a liner for water gardens and even for something as small as a liner for patio planters.
With clear evidence that energy costs were going to be a major concern for Americans, Water Tight Technologies began developing white roofing products in 2005. Today, Water Tight Technologies markets this product under the BRITE-n-EZ® brand to address the needs of the contractor and building owner who see the clear benefits of a white roof. This product is the BRITE-n-EZ® TPO Membrane Roof System.
Water Tight Technologies is committed to supplying quality, value added products that will enhance the roofing contractor's profit opportunity.
© Copyright 2000-2023, Water Tight Technologies®. RUBBERALL®, BRITE-n-EZ® and Water Tight Technologies® are registered trademarks of Water Tight Technologies LLC. All Rights Reserved.
"E-ZEE" ROLL™ is a trade mark of Water Tight Technologies, all rights reserved.