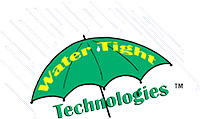 Water Tight Technologies, LLC.
25 Year Limited Membrane Warranty
Water Tight Technologies (WTT) warrants that the RUBBERALL® MEMBRANE (MATERIAL) when used as a WATER GARDEN LINER will not prematurely deteriorate to the point of failure because of weathering for a period of twenty five (25) years from the date of sale of membrane so long as the membrane is installed, maintained and used for the purpose stated here.
Owner must give WTT notice of a claim within 30 day of when failure due to weathering is first noticed. Original purchase receipt must be submitted along with a current picture of the water garden installation showing membrane deterioration and a sample of material said to have deteriorated. WTT reserves the right to inspect the water garden before compensation is made under this warranty. This warranty is voided if the RUBBERALL® membrane is removed from the water garden before a WTT representative is given the opportunity to inspect the water garden for possible deterioration caused by other factors.
WTT liability is limited to providing repair material or to issue credit to be applied toward the purchase of new RUBBERALL® membrane. The value of the membrane or credit will be determined on a pro-rata basis. Pro-rata calculation is as follows: number of remaining months of the warranty divided by 300 time the purchase price per square foot and that times number of square feet installed. Replacement material shipping costs are not included in this warranty.
This warranty applies only to RUBBERALL® membrane installed on projects that have been registered by mailing (U.S. Postal service) the RUBBERALL® registration card or by completing the registration form found on the WTT website. Failure to use an original warranty card or to completely fill in requested information on either the printed form or computer form will void the warranty. It is not WTT's responsibility to return a card for more complete information. Warranty claims must be made in writing and mailed to Water Tight Technologies, LLC, P.O. Box 899 Payson, AZ  85547 or it's then current address.
NO REPRESENTATIVE OF WTT HAS THE AUTHORITY TO MAKE ANY REPRESENTATIONS OR PROMISES EXCEPT AS STATED HEREIN.
THERE ARE NO WARRANTIES EITHER EXPRESSED OR IMPLIED, INCLUDING THE IMPLIED WARRANTIES OF MERCHANTABILITY AND FITNESS FOR A PARTICULAR PURPOSE, WHICH EXTEND BEYOND THE WARRANTIES CONTAINED IN THIS DOCUMENT. WTT SHALL NOT BE LIABLE FOR ANY INCIDENTAL, CONSEQUENTAL OR OTHER DAMAGES TO THE STRUCTURE OR ITS CONTENTS ARISING UNDER ANY THEORY OF LAW WHATSOEVER.
Water Tight Technologies
P.O. Box 899
Payson, AZ 85547
888-268-2122
WWW.RUBBERALL.COM
© Copyright 2000-2023, Water Tight Technologies®. RUBBERALL®, BRITE-n-EZ® and Water Tight Technologies® are registered trademarks of Water Tight Technologies LLC. All Rights Reserved.
"E-ZEE" ROLL™ is a trade mark of Water Tight Technologies, all rights reserved.