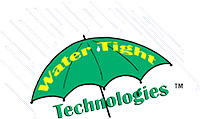 Water Tight Technologies, LLC.
RUBBERALL™ Liner Membrane Qualities
EPDM (Ethylene Propylene Diene Monomer) rubber lining technology has been the choice of landscape contractors for water garden applications for many years. Until recently, getting that EPDM membrane for lining applications proved to be difficult. Water Tight Technologies is making available this proven EPDM lining technology to the landscape contractor by offering RUBBERALL® membrane through your local lumberyard. There are many reasons why RUBBERALL® membrane should be your choice for a water garden project:
Proven performance. EPDM flexible membranes similar to

RUBBERALL®

have been used as a water garden lining for nearly four decades.
Flexibility. What membrane other that EPDM with it's 300% plus elongation will take the stress of a 500 pound bolder being placed on top of it?
Withstands Temperature Extremes. The

RUBBERALL®

membrane will not split, crack or rupture due to extreme temperature fluctuations. It has a flexibility range of -75 degrees Fahrenheit to temperatures up to 300 degrees Fahrenheit.
Boundless Creativity.

RUBBERALL®

panel sizes can be purchased virtually as large as the contractor's ability to manipulate during installation. Unlike preformed rigid liners and thermoplastic membranes that are difficult to seam, with

RUBBERALL®

seam tape the size or shape of the

RUBBERALL®

lined water garden is without limit.
Weatherproof. Unlike other flexible liners, our

RUBBERALL®

membrane shows little or no effect from exposure to sun after many years in service.
Warranties.

RUBBERALL®

membrane from Water Tight Technologies, LLC is the only membrane offered with a FREE twenty-five (25) year transferable material warranty using .045 inches membrane in a water garden lining application.
IF YOUR GOAL IS TO "KEEP THE WATER IN" RUBBERALL® MEMBRANE BY WATER TIGHT TECHNOLOGIES IS THE PRODUCT FOR YOU.
© Copyright 2000-2023, Water Tight Technologies®. RUBBERALL®, BRITE-n-EZ® and Water Tight Technologies® are registered trademarks of Water Tight Technologies LLC. All Rights Reserved.
"E-ZEE" ROLL™ is a trade mark of Water Tight Technologies, all rights reserved.